2022 Fall Sports Registration is now open through our FamilyID website. For more information, see online @
https://5il.co/1bh3x

Marlboro High School will be hosting a Vaping & Internet Safety Workshop for all school district parents on 6/13 at 6 PM. NYS Police Trooper Anca Watt will discuss social media and internet safety, and share information about the dangers of vaping and drug use.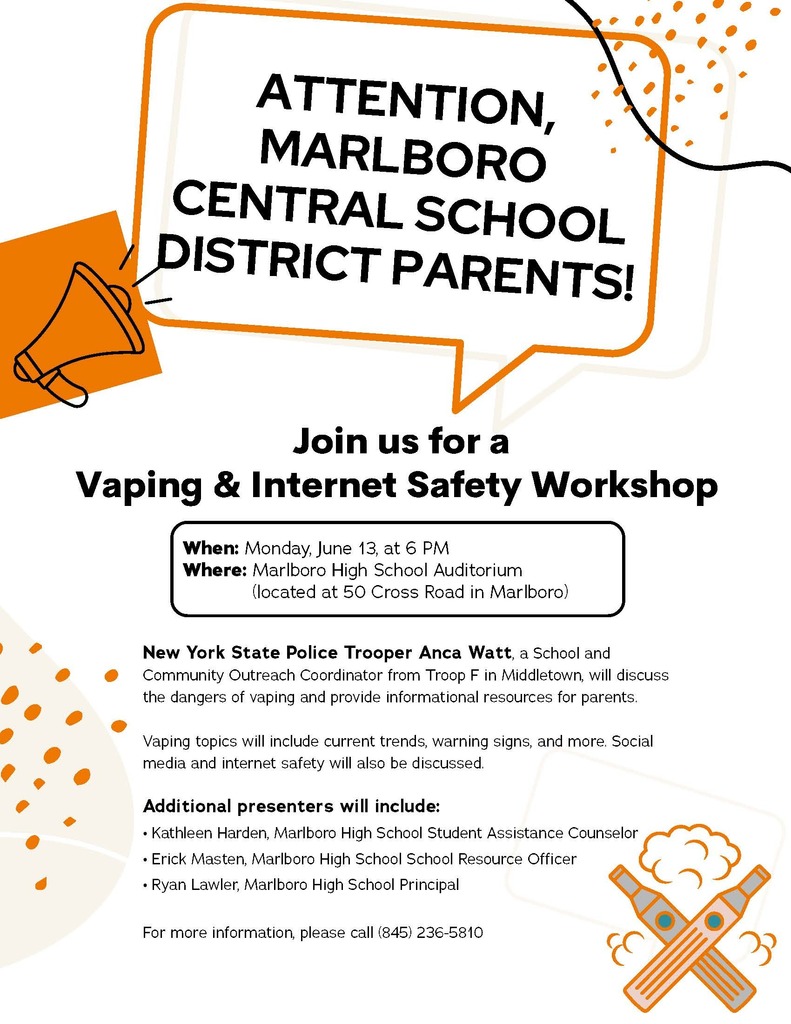 Congratulations to our Lady Dukes softball team, they are Final Four bound with a 10-1 win over Babylon yesterday. Good luck in the finals!

This week's Connections newsletter announces the opening of registration for our 2022 Fall Sports through our FamilyID website. Read online @
https://5il.co/1bh3x

Parents & students, please be check our updated school schedules for the final week of school, June 20 - June 24. Read online @
https://5il.co/1bdpq

Marlboro Middle School Choral concert tonight at 7 pm. All Spring concerts will be live-streamed @
http://bit.ly/2qQnuKk

The Knights of Columbus are sponsoring a blood drive on June 19 at St. Mary's Parish Hall, for more details read online @
https://5il.co/1bcbd

We are proud to announce the opening of our AP Studio Art Show at Marlboro High School on June 2nd. Come see the art exhibit of our talented students. More details online @
https://5il.co/1b2nm

Marlboro Baseball will be providing a baseball camp for youth this summer with two sessions. For more information please see the flyer attached or online @
https://5il.co/1b2nu

We are proud to share the Marlboro High School Top Ten Connections newsletter featuring the top ten seniors and their stories. View online @
https://5il.co/1b0if
and congratulations to the Class of 2022!


Meet Me in Marlborough May Market event is this Saturday, May 21 at Cluett-Schantz Park. For more information, see the flyer online @
https://5il.co/1atsp

Athletic update: Here is a revised updated sports schedule for this week, view @
https://5il.co/1aobj

Good afternoon. Due to expected storm weather, Marlboro Schools will be dismissing 30 minutes earlier than our normal. Today's Dismissal times are as follows: MMS - 1:45 pm, MHS - 1:55 pm & MES - 3 pm bus dismissal

ATHLETIC UPDATE: The following sports have been cancelled for today, May 16, 2022: VARSITY GIRLS GOLF, MODIFIED BASEBALL, MODIFIED SOFTBALL, & MODIFIED BOYS/GIRLS TRACK AND FIELD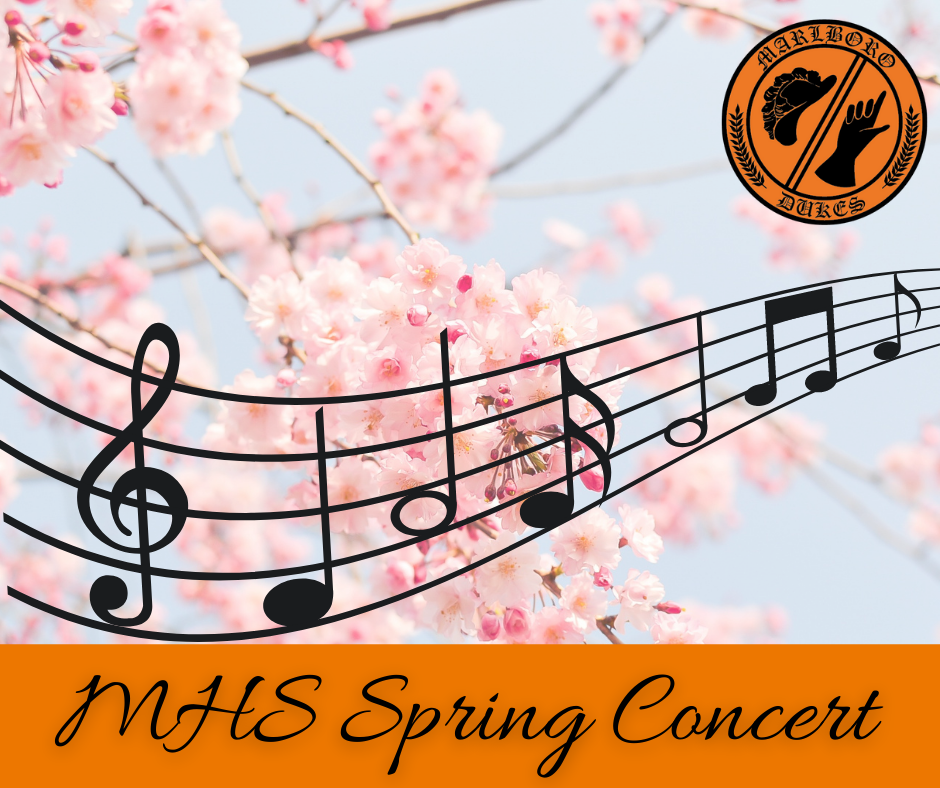 The Marlboro District Art show will be held next week, on Tuesday, May 17th @ Frida's in Milton from 5 pm to 7 pm. Come see the student artwork on display and speak to some of our talented student artists. More details online @
https://5il.co/19pl8

This week's Connections newsletter has information on two exciting topics, first Marlboro Middle School earns "School to Watch" designation and second, our Spring Concert schedule, read online @
https://5il.co/1a5n1

Marlboro High School's Spring Concert will take place in the auditorium on Wednesday, May 11, at 7 PM. Don't miss it!